Server Cabinet Enclosures
As low as
$1,364.00
$1,240.00
This Product Ships Freight
18RU - 42RU of rackable space
Adjustable mounting depth of 6" - 30" (152 - 762 mm)
Overall rack depth, 39" (990 mm)
Universal square holes, cage nuts included
Dell, HP, IBM compatible
The RackSolutions Rack Model 151 server racks are compatible with Dell, HP and IBM servers and computers. They are also compatible with most other standard brands as well. These server racks meet the EIA standards for 19" server racks. The fully enclosed server rack comes in a 42RU size, perfect for most any server room or data center. Security has been addressed as well, with our locking front and back doors and locking side panels.
18RU - 42RU of rackable space
Adjustable mounting depth of 6" - 30" (152 - 762 mm)
Overall rack depth, 39" (990 mm)
Universal square holes, cage nuts included
Dell, HP, IBM compatible
---
Secure rack made for servers
76% perforation on doors exceeds OEM air flow requirements
Doors and sides are removable and lockable
1680 lbs (762 kgs) capacity
Casters, leveling feet included
Cable pass-throughs in top & bottom of rack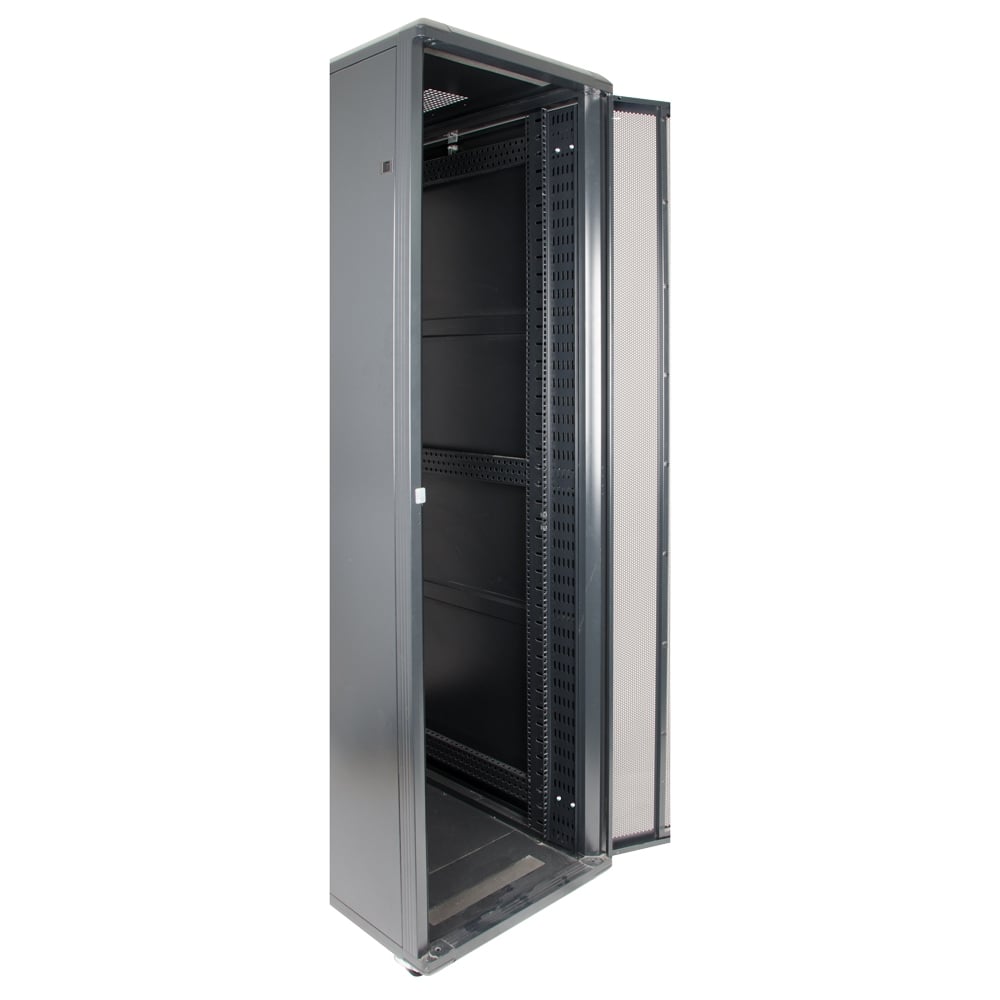 Vertical Cable Management Bar
The Vertical Cable Management bar works exclusively with these Rack-151 server enclosure. These trays run vertically from the top to the bottom of the server rack and allow you to route cables to data switches or UPS devices in a structured manner. They come in 6 different sizes to complement our range of premium server cabinets, and you can mount one on either side of the cabinet.
More Information
Product Line
RACK-151
Country of Manufacture
United States
Included Hardware

(40) 12-24 Cage nuts
(40) 12-24 x 3/8" screws
(2) door keys
(2) side panel keys

Rack Type
4 Post Rack, Enclosed
Hole Type
EIA 3/8" square holes
Rack Internal Width
EIA 19" Standard Rack
Rack Mount Depth

Standard Depth: 29.125" (740 mm)
Adjustment Range: 6" to 30" in 1" increments (152 - 762 mm)
Internal Space: 37.8" (959 mm)
Front Space: 2.9" (73 mm)*
Rear Space: 6.4" (162 mm)*


*Measured with installation depth of 29.1" (740 mm)
Dell Part Number
RACK-151-18U: A0943327
RACK-151-22U: A0942002
RACK-151-27U: A0964368
RACK-151-32U: A7475140
RACK-151-37U: A1621220
RACK-151-42U: A1149815
RACK-151-BAY: AB391528
RACK-151-FANTRAY-6: A2919081
For a full list of Dell SKUs setup in the Dell ordering system visit our Dell SKU page.
Synnex Part Number
RACK-151-18U - 4614613 RACK-151-22U - 4614612 RACK-151-27U - 4614611 RACK-151-37U - 4614609 RACK-151-42U - 4614608 RACK-151-32U - 4614610 RACK-151-FANTRAY-6 - 4852152 137-4273 - 4614638 137-4274 - 4614639 137-4275 - 4614640 137-4276 - 4614641 137-4277 - 4614642 137-4278 - 4614643
Ingram Part Number
RACK-151-18U - L76331 RACK-151-22U - L76332 RACK-151-27U - L76333 RACK-151-37U - L76335 RACK-151-42U - L76336 RACK-151-32U - L76334 RACK-151-FANTRAY-6 - BG5773 RACK-151-FANTRAY-6-INSTALL - 8UF342 RACK-151-BAY - YP1608 137-4273 - ZN3843 137-4274 - ZN3842 137-4275 - ZN3841 137-4276 - ZQ5068 137-4277 - ZN3840 137-4278 - ZN3839
Tech Notes
UL certified
Rack Height ( RU Height)
18RU-42RU
Finish
Black, textured powder coat
Rack Post Shape
L Shape (opens in a new tab)
Assembly Notes
Ships fully assembled on a pallet
Rack Doors
Removable and lockable
Rack Outside Dimensions
D x W
39" x 23.5" (1000 x 597 mm)

Height & Weight


| | |
| --- | --- |
| 18U = 39.43" (1001.76 mm) | 205 lbs |
| 22U = 46.43" (1179.56 mm) | 215 lbs |
| 27U = 55.18" (1401.81 mm) | 235 lbs |
| 32U = 63.93" (1624.06 mm) | 255 lbs |
| 37U = 72.68" (1846.31 mm) | 275 lbs |
| 42U = 81.43" (2068.56 mm) | 295 lbs |

Rack Casters
Standard casters with leveling feet
NOTE: Casters are only for positioning an empty rack
They aren't meant to support the rack when it's loaded with equipment
Rack Ventilation
63% perforation on doors
Rack Sides
Removable and lockable
RoHS Compliant
Yes
TAA Compliant
No